If you're getting ready to list Lone Tree luxury homes for sale, you've no doubt assembled a list of tasks to make the interior sparkle. That's terrific, but don't forget that the true first impression that buyers are going to get of your home is when they see the exterior for the first time when they drive up for a private showing or open house. Did you know that some buyers may be so turned off by the exterior of a home that they don't bother going inside, and poof, there goes a potential sale?
That's why real estate professionals use the term "curb appeal" to describe how the exterior of homes for sale look. The better a home's exterior aesthetic is, the more likely it will give buyers that "wow factor" before they've even stepped through the front door.
Boosting a home's curb appeal
can be rather simple and easy on the pocketbook, and it'll have a good return on investment (ROI). If you've kept the exterior of your home looking sharp over the years, you should be able to easily perk it up before selling your home.
Hire a terrific agent
Once you've decided to list your Lone Tree luxury home for sale, your first step should be to partner with a licensed real estate agent who has spent several years helping clients sell their homes in this fast-growing, upscale Denver suburb. Even if you're several months to a year away from listing, it's never too early to find a smart agent who will advise you every step of the process. High on this list of suggestions will be easy ways to boost your curb appeal. Working with a knowledgeable real estate agent will help you maximize your profit after you've spent years taking tender loving care of your residence.
Green sells
The most obvious part of your exterior that attracts the attention of potential homebuyers is
the front lawn
. As you're approaching the listing date, get into a routine of watering, fertilizing, and mowing your lawn. Be sure to pull any weeds and rake leaves. Hire a professional landscaping firm to provide regular lawn care if you don't have the time or inclination to do it yourself.
Going hand-in-hand with lawn care is trimming trees and bushes in your front yard. Again, a landscaping service can take on this task as part of regular lawn care. If the front of your home looks a little sparse, add a flower bed or two. You can even perk up the front of your home by adding flowers in window boxes and a planter on the front porch. If possible, go with some native plants to boost the aesthetic of your Lone Tree home.
Don't forget the roof
Don't forget to assess the condition of your roof. Besides eyeballing your front yard, savvy homebuyers will glance at the roof to see what condition it's in. A worn or even dirty roof can be a turnoff and lead to buyers simply heading to the next open house. Even if you need to replace a worn or leaky roof, it's one of the items that will add value to your home. Plus, the last thing buyers want to do is have to sink several thousand dollars into a new roof right after moving into a Lone Tree luxury home. Roof problems that are detected during a routine home inspection can delay or derail a sale, so get ahead of them the best you can.
Front door
One of the most obvious upgrades that will boost curb appeal is to
paint your front door
in a warm, welcoming color. This is an easy project that doesn't cost much money while dramatically improving the appearance of your home. Just make sure the color isn't too overwhelming. Several paint guides can help you decide what color to paint it. You can even paint the exterior trim in the same color to make Lone Tree real estate for sale pop.
Clean, clean, clean
There are other ways to make your home shine. Other tasks that will boost your curb appeal are to power-wash the exterior of your house, the front sidewalk, the driveway, and a backyard deck or patio. Be sure to wash the windows as well. The changing seasons in Denver can take a toll on your home's exterior. Power washing is an easy DIY task, or you can hire a professional to do it. You'll be amazed at how fresh and clean your entire home will look. Now's also the time to seal any cracks in the driveway and sidewalk and repair any holes or rough spots.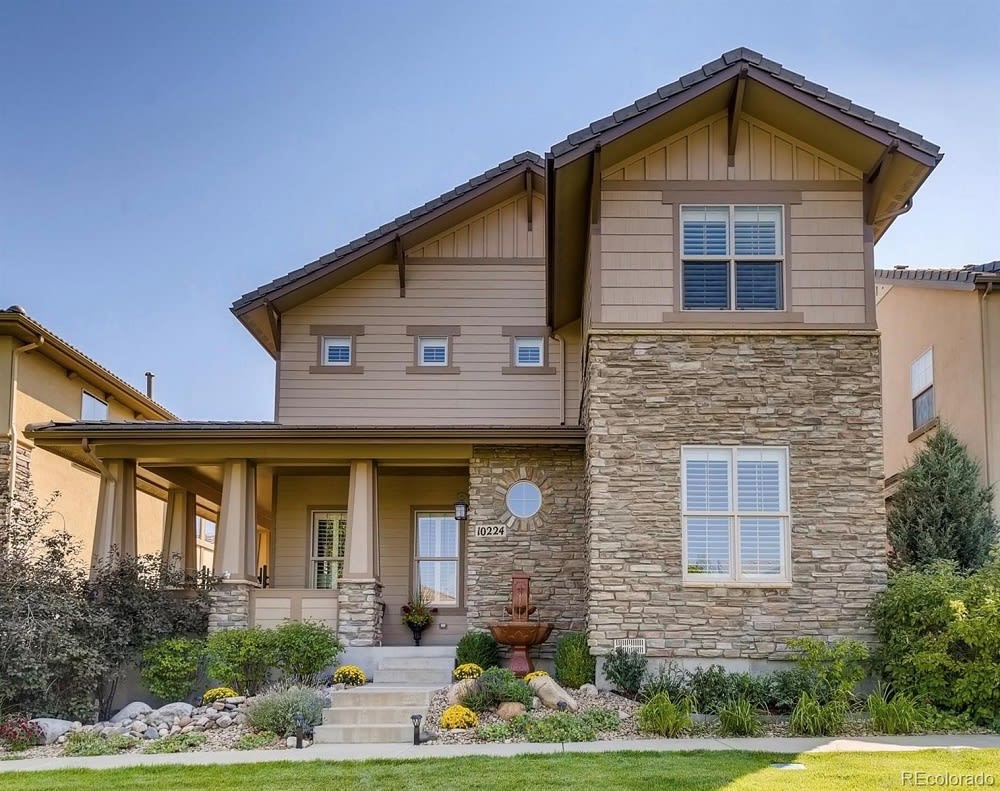 Image courtesy of Sherry Beindorff
Spruce up the porch
The real magic moment comes when potential buyers arrive at your front door, ready to tour your home.
Put a flourish on your curb appeal
by cleaning up the porch. If the porch light is old, replace it with a new, stylish light with an attractive finish. Clear any cobwebs out of the roof eaves and put down a new, neutral doormat to welcome potential buyers.
Ready to list your Lone Tree Real Estate For Sale?

*Header image courtesy of Sherry Beindorff